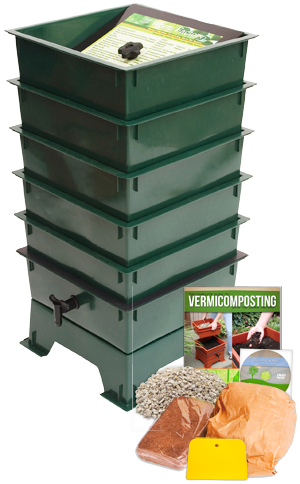 The Worm Factory
The Worm Factory
$ 149.99
description
Worm composting is an incredibly efficient to convert kitchen scraps, junk mail and cardboard into nutrient-rich compost for your garden. Master gardeners agree that compost produced by worms will produce the best results and help your plants the thrive!
The Worm Factory's® unique stackable, multi-tray design makes it the most efficient composter around. Worms begin eating waste in the lowest tray, and then migrate upward as food sources in that tray are exhausted. By allowing worms to migrate upward, the worms separate themselves from the finished compost that is ready for the garden.
Besides the worm castings that are produced through this process, the Worm Factory® also produces a second type of compost. As waste is broken down, moisture filters through your composter, dragging nutrient-rich particles with it. This liquid fertilizer, know as "worm tea" is gathered in the special collection tray of the Worm Factory® and can easily drained from the spigot.
Benefits of composting with the Worm Factory®
Saves Space: It's compact square design gives the Worm Factory® the smallest footprint of all worm composters. The Worm Factory's® tray stacking system allows it to hold the largest capacity of compost in the smallest amount lof space, making it the perfect composter for anyone with space limitations.
Easy to Manage: The Worm Factory® is simple to operate. When full, each tray weighs only 12.5 pounds, making lifting and arranging trays effortless. The included 16-page instruction manual makes setup fast and easy and gives tips on how best to manage your Worm Factory® composter year-round.
Odorless: When managed correctly, the Worm Factory® is virtually odorless, making it the perfect composter for apartments, kitchens, garages, porches and more!
Saves Time: The Worm Factory® does the work for you! Instead of spending time turning piles of compost yourself and removing worms by hand, the multi-tray system separates the worms from the compost so you don't have to. Also, because the worms continually eat through the waste in the stacked trays, compost is produced at a faster rate than traditional methods of composting.
Produces the Best Compost: The best compost for your garden is all-natural, nutrient-rich compost produced by worms. The Worm Factory® creates the high-quality compost that will help your garden thrive!
Features:
Year-round production
Odor Free operation
Available in three, four or five tray options
Expandable up to 7 trays
Available in black & terracotta
Easy to assemble and manage
Built in "worm tea" collector tray and spigot for easy draining
Includes a 16-page easy-to-use instructional booklet with photos and illustrations
Comes with "Quick-Tips" lid for easy reference
Houses eight to twelve thousand worms that consume 5-8lbs of food per week
5 year warranty on parts and workmanship
Made in the U.S.A.
Specifications:
Available in black and terracotta models
Measures 16" x 16" x 21" for a 3 tray system, 3.5" higher for each tray added
Both black and terracotta models are made from high-quality post-consumer recycled plastic
3 Tray model weighs 14lb when empty
Operational in temperatures between 45 and 95 degrees

Included:
Stacking Trays and Base
"Worm Tea" Collection Tray
Instruction Book
Ventilation "Quick Tips" Lid
1 250gm Coir Brick
Shredded Paper
Spigot
Various assembly screws, nuts and bolts
Shipping Weights:
3 Tray" 12lbs
4 Tray" 13lbs
5 Tray" 14lbs